Liquid error: product form must be given a product
In order to meet the needs of grown ass men, our custom hockey jerseys are made from 220g abrasion-resistant, two-way stretch, moisture wicking fabric.
When you throw on one of our sweaters you can count it to breathe, move, and keep you dry. We design and manufacture the highest quality sublimated jerseys on the market, with a professional fit and a seamless experience.

Tapered sleeves, curved hem and a variety of collars. Our custom hockey jerseys mirror the silhouette of the pro jerseys worn today around the world. ​
Breathable, moisture-wicking, and 2-way stretch polyester keeps you dry, cool, and mobile. Because in hockey, moist warm, and stiff is a bad thing. ​

Our colors and designs are fade proof. We owe it all to our sublimated printing process. Ink is heat-bonded directly into the fabric. Designs are guaranteed to stay vibrant for life.
Handsome Male Model: 5' 10" | 175 lbs
Prefers to wear size XL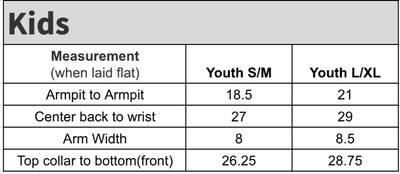 Our jerseys have a modern cut like today's NHL jerseys. In plain English, they're slimmer in the arms and wider in the torso -- that way they hold your elbow pads in place and still fit over the back of your pants and don't turn into a belly shirt when you raise your arms in excessive, obnoxious, and totally necessary celebratory actions. ​
Skaters:5'7" - 5'9" -- L (big boys size up)
5'10" - 6'0" -- XL (big boys size up)
6'0" - 6'4" -- XXL (big boys size up)
Big, Big — 3XL (they know who they are)
Goalies:
5'7" - 5'9" —Goalie Cut L
5'10" - 6'2" — Goalie Cut XL
Big ass goalies — Goalie Cut 2XL

Silky as a Datsyuk backhand toe drag, shelf.
STEP 1:
​Fill out the 2-Min Design Form. Include your concept or have a pro make one from scratch.
STEP 2:
​Our design team will get after it. Your free mock-up will be in your inbox within the week.
STEP 3:
​Approve your design and have your custom hockey jerseys in about 4-6 weeks. Simple as that.